Clearwipe
A unique microfibre structure that is easy on glass and cleans with one wipe!
Textured, non-woven fabric catches all contamination
Made from microfibre to prevent scratching of lenses*
A unique liquid that cleans lenses with one wipe
*Depending on the usage situation, scratches may occur.
Pollen catching efficiency

General pulp made wipes

Clearwipe's advanced microfibre
Microfibre is an ultra-fine tangle creating interfibre spaces that capture even the finest particles and dusts.*
*Based on our independent test.
Bacteria catching efficiency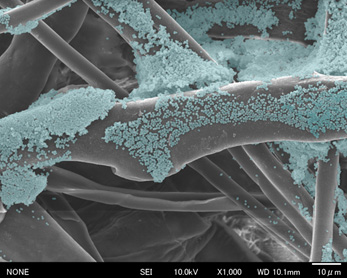 Clearwipe's advanced microfibre
This engineered surface can capture and remove microscopic stains such as bacteria.
Product Details
Each Clearwipe is infused with a cleaning solution that dries instantly and leaves no streaks.
The pre-moistened wipes come individually wrapped and can be used anywhere.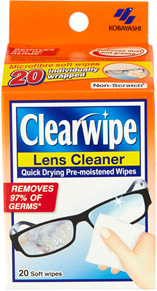 Clearwipe Lens Cleaner easily removes grease, dust, lint and even 97% of germs* without damaging expensive surfaces. Just wipe and let dry for a streak free shine - no need for re-wiping with a
dry cloth! Regular use also prevents dust and lint from building up.
*Based on our independent test specific to E.coli and S.aureus. Not effective against all types of germs.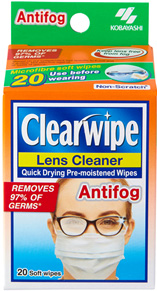 Clearwipe Antifog Cleaner has dual effect of cleaning and Antifog in one wipe and it is great to use with masks. It comes in packs of individually wrapped sachets that can be carried with you and used anywhere, anytime.

Features and Benefits
Clearwipe Lens Cleaners / Clearwipe Antifog Lens Cleaners not only clean your lenses, but can also be used on a wide range of glass surfaces.
You can also use Clearwipe Lens Cleaners on:
Ski goggles
Microscopes
Mirrors
Mobile phones
Computer Screens (excluding liquid crystal screens)
Tablet PCs
Plasma TV screens
You can also use Clearwipe Antifog Lens Cleaners on: